CLASSES OPEN TO THE PORTLAND COMMUNITY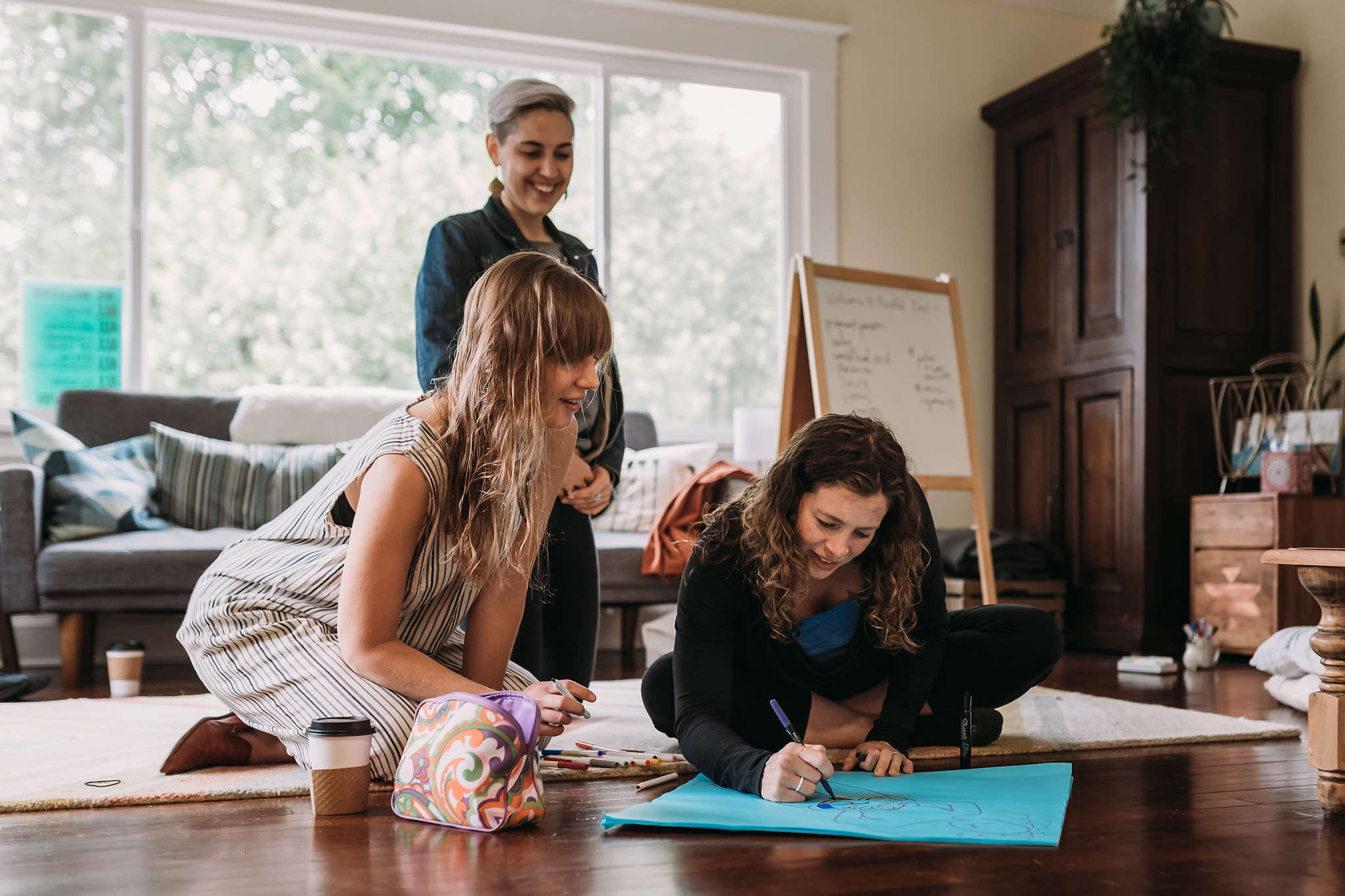 MindfulNest Childbirth Class
CHILDBIRTH CLASS THAT blends MINDful practice WITH
THE LATEST EVIDENCE-BASED INFORMATION
MindfulNest is a childbirth education series offered in a group setting led by Nicolette and Megan (listed on our calendar) or privately, in your own home, by our doula, Nicolette. The techniques learned in this class have the ability to reduce anxiety and stress, contribute to a healthy pregnancy, increase connection in your family, reduce pain during labor, and enhance your immunity.
This class includes a mix of lecture, discussion, media, movement, and relaxation techniques. It is ideal for anyone who is either birthing or supporting the labor of a loved one. This mindful birth class caps its enrollment at five families in order to individualize the material and provide space for group discussion. It is ideal for anyone who desires a balanced mix of "woo" and science.
This is a two-day class!

Upcoming sessions
September 14th & 15th from 9:00am-1:00pm
November 9th & 10th from 9:00am-1:00pm
December 7th & 8th from 9:00-1:00pm
Material covered Day two
Active Labor & Birth: It takes a village to hatch an egg! Find calm and confidence during active labor and the birth of your baby. The energetic atmosphere of your chosen place of delivery can directly impact your birth experience. How can you implement the tools you've practiced to set the tone for a supportive atmosphere?
Address fears and create individualized pathways for Relaxation- Comfort- Confidence

Learn about the role and importance of hormones in labor

Establish trust in your clinical care team

Transition and the birth of your baby
The 4th Trimester (Postpartum): Nest into the Fourth Trimester! Create support systems within your family and friend circles in order to promote self-care. Turns out they were right... taking care of baby IS A FULL TIME JOB. The identity of parenthood does not overshadow who you are as a person in the world. Creating space for your continued growth as an individual is paramount to your well-being as a parent.
Understand & meet the needs of your family's new normal

Access your internal tool kit to ride the waves of new parenthood

Recognize your baby's transitions from womb to world and how to best support them
Material Covered Day One
Pregnancy: Build your nest! In preparing for the arrival of your babe, you often hear about nesting in your home, but what about nesting in your body?
Lay the groundwork for mindfulness practices

Increase your ability to cope with discomfort with practical tools that fit into everyday life

Learn about functional movement in pregnancy and preparing the pelvis for birth

Navigate new household challenges and joys, while staying connected to yourself and your family
Early Labor: Your egg is about to crack! Anchor into the unknowns of early labor. As the arrival of your babe draws closer, what can you do as a household to gain confidence and prepare for the unfamiliar terrain of early labor?
Learn the stages of dilation/effacement and the variations of normal

Recognize the emotions and physical sensations common in this stage

How to create a birthing environment that's supportive of your family's needs
Family Bonding Series
The Family Bonding Series is a collection of 3 unique birthing and parenting classes designed to create space for you and your partner to embark on this journey together. Classes contain a sweet combination of mindfulness, evidence based information, and practical tools that will leave you feeling more connected and confident as you prepare for the next season of family life. Check out our Calendar to see when the next class is scheduled!
Classes may be taken in any order. The cost for each class in this series $35. As a Brave Birth Family you get to attend each class for $10. Payment is due with check/cash to the instructor the evening of the class.
with Barb Buckner-Suarez
Birth doesn't always stick to a plan - it's unpredictable and that can leave you both feeling vulnerable. In this section of our Family Bonding Series, you'll learn how your connection to one another is the constant that can help set you up for success as a new family - no matter how your birth unfolds.
In this class, led by a Lamaze Certified Childbirth Educator and certified Becoming Us Facilitator, you will:
Learn to identify your partner's coping style

Practice communicating your needs

Deepen your relationship
with Tasha Clothier
We spend so much time planning for the "big day" that we often overlook what comes next - the postpartum period! It is not just about a new baby! In this section of our Family Bonding Series, you'll learn how to plan for your new little one as well as how to plan your own, much needed, self care. Your recovery from being pregnant and giving birth, no matter how you do it, is essential to the health and wellness of your family.
with Ashley Treadwell
Different from and complimentary to all other breastfeeding classes you may have taken, in this class you will learn what to expect in the first seven days after birth. Led by a Certified Lactation Consultant, you will learn:
How to get breast/chest-feeding off to a good start

How to know if your baby is getting enough

When and how your milk will come in

Positioning for feeding

When to seek additional support
CLASSES AND NEW PARENT GROUP TAKE PLACE AT OUR BEAUTIFUL BRAVE BIRTH STUDIO: